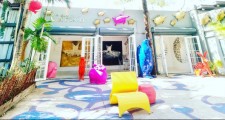 Miami, FL, March 9, 2017 (Newswire.com) - Galleria Ca' d'Oro announces the opening of their additional Miami gallery at MIAMI IROSIDE situated in the historic Upper Eastside's neighborhood. Ironside is a vibrant, multidisciplinary urban center envisioned by developer and designer Ofer Mizrahi - composed of showrooms, studios, and co-working spaces that include a diverse group of architects, designers, boutique retailers, creative services and art galleries.
Gloria Procella is the owner of Galleria Ca' d'Oro, one of Rome's best known contemporary art galleries, located in Via del Babuino, Rome.  It was established in 1970 by her father, Antonio Porcella, son of Amadore Porcella, one of the most important art critics of the period and grandson of Alpinolo Porcella, personal friend of great Italian Masters such as Filippo de Pisis and Giorgio de Chirico.  Antonio Porcella is a current member of the de Chirico Foundation in Rome.
"I chose Miami Ironside as the destination for my gallery because it is to me what the Design District is no longer, it reminds me of Europe: charming, caring about art and design with an incredible real Italian coffee and restaurant. Ironside is an exceptional and safe community were all the spaces are cozy, chic and one of a kind," said Gloria Procella owner of Galleria Ca' d'Oro. 
In December 2010, during ArtBasel Miami, the Galleria Ca' d'Oro first Miami Gallery opened its doors at 135 San Lorenzo Avenue in Coral Gables with the placement of the unforgettable pink snails, extending the Regeneration Art Project to the United States.  Today the gallery is located in Miami Ironside where it continues to bring its experience and expertise to the US, boosting Italian and European art with passion and enthusiasm. For more information and updates follow our social media streams. 
Source: Miami Ironside