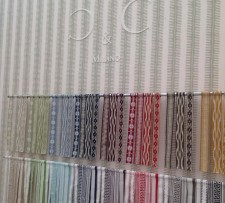 C&C Milano opens first Miami Showroom at MIAMI IRONSIDE
Miami, FL, February 13, 2017 (Newswire.com) - C&C Milano, a textile design company that offers custom-made, innovative textile designs and the exclusivity of unique hand-made items, announced today that it will open its first Miami showroom at MIAMI IRONSIDE to clients from around the world.
MIAMI IRONSIDE is situated in the historic Upper Eastside's neighborhood. Ironside is a vibrant, multidisciplinary urban center envisioned by developer and designer Ofer Mizrahi - composed of showrooms, studios, and co-working spaces that include a diverse group of architects, designers, boutique retailers, creative services and art galleries.
The C&C Milano Showroom is now officially open to the public. "Generally speaking, we chose MIAMI IRONSIDE because we fell in love with the location: it's beautiful and such an elegant place with a tranquil garden and ample parking," said Sabrina Valsecchi, Publicist for C&C Milano.
C&C Milano is a leading textile company based in Milan, Italy that focuses on home textiles and commercial projects internationally. The brand has a strong presence in Europe and in the United States. C&C Milano offers products that range from trims, wallpapers, fabrics, leathers and carpets.
The attention to detail is shown by C&C Milano in the final phase of each project where everything is finished by hand in a highly-specialized workshop. The personal control over the entire production process, from spinning and weaving to finishing, is guaranteed to be of the highest standards offered by C&C Milano in line with the traditional quality of items "Made in Italy". For more information and updates follow our social media streams.
About C&C Milano: Emanuele Castellini and Piero Castellini Baldissera founded C&C Milano in 1998, to offer textile products for home decoration. The first Milanese showroom opened on via della Spiga with a focus on decorative fabrics, mostly linens and linen blends. C&C stands for Castellini (Piero) and Castellini (Emanuele), both belonging to the same Milanese family. C&C Milano offers custom-made and innovative textile designs and the exclusivity of unique hand-made items.
Source: Andrea Romero on behalf of Miami Ironside